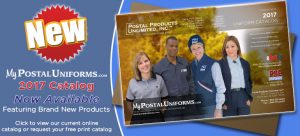 The
MyPostalUniforms.com
2017 uniforms catalog is now available both online and in print format. Ordering a uniforms catalog is a quick, free way to get information about uniform purchasing to USPS employees. Our new catalog is filled with products for all facets of the USPS, so you can rest assured that no matter the position, this catalog will have the uniforms all USPS employees need. Here's a breakdown of what you will find in our catalog. Page 1-13
Letter/Carrier + Motor Vehicle Operator.
In these pages you will find hats, shirts, pants and shorts, accessories, outerwear, and more Page 16-23
Retail Operations.
In this section window clerks will find all the uniform items they need to do their jobs such as shirts, pants, accessories, sweaters, and much more. Page 25-29
Work Clothes
. Shirts, pants, and outerwear are just a few of the products you will find in this section of the catalog. Page 30-44
Footwear.
You'll be blown away by our wide range of footwear products. From boots and shoes to insoles and socks, we have it all. Page 45-49
Gloves
Whether you need a waterproof, windproof glove to protect you in winter or a simple utility glove, we can deliver. Page 53-64 and 66-87 all contain
non-reimbursable specialties
, some for carriers and some for vehicles. Here you'll find pins and aprons, straps and cooling cloths, safety vests and postal flags, and much, much more. That's just the bare bones of our catalog. This outline doesn't include some of our smaller sections, such as stamps or CCA uniforms.
click here
to request your free copy of our 2017 uniforms catalog!