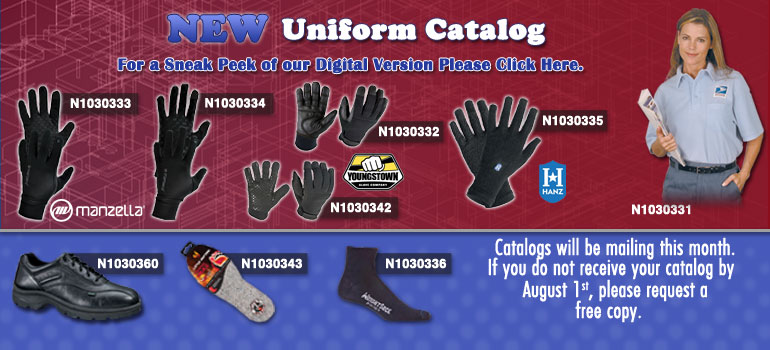 The new 2014-2015 uniform catalog is almost here! Our catalogs are in the process of being sent out right now! If you've ordered one already, you can expect to see it soon. If you don't receive a catalog by August 1
st
, request your free copy
HERE
. We'll send you a catalog with our newest and greatest products for absolutely no charge. Once you get our catalog and look through it, you have several different options. For your convenience we've included an order form in the catalog. You can use this to easily write down what items from the catalog interest you and mail it in. If that's not to your taste, you can all of our products on
MyPostalUniforms.com
and order online. We strive to make your shopping experience easy and fast, no matter what method you choose. So what can you expect to find in our new catalog? We have items for
letter carriers
,
retail operations
,
work clothes
,
footwear
,
gloves
, and much more. We also feature our selection of closeout items and PSE Uniforms. In addition to presenting you with our products, we also provide a handy size chart to make it easier than ever to shop with us. Don't feel like waiting? Well then you're in luck. We have a digital preview available for you! It's very simple to use. You can flip through the catalog, bookmark it, search through the catalog, and zoom in to get a closer look at the items. Simply follow
THIS LINK
to take a look, today! Do you want to continue to keep up with our latest sales, products, and more? You can do that by keeping up with this blog of course, but in many other ways as well! Like us on
Facebook
, follow us on
Twitter
, or sign up for our
email newsletter
. So don't wait! Take a look at our digital copy of the new catalog, or order yours today! All catalog materials, whether digital or in print, are completely free. Until next time.