We have a sale coming towards you this week…that will last the rest of October! We at
MyPostalUniforms.com
realize how important it is for letter carriers to protect their feet while on the job, which is why we've chosen this promotion.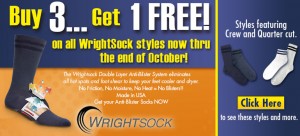 Now through October 31
st
, all USPS employees will receive one free pair of WrightSocks when they buy three! This buy three get one free sale is a great chance to stock up on an essential uniform item that it can be easy to forget about! You can find all of our WrightSock options in our digital catalog
HERE
. You can also find all of our reimbursable socks
HERE
but remember, only WrightSock brand socks work for this promotion! WrightSock's patented double layer technology moves moisture away from your feet. It also absorbs friction and foot shear. This is to keep feet as healthy as possible and is ideal for letter carriers who are on their feet all day. So what are you waiting for? This sale will only last through the rest of October, so it's time to shop before this great sale ends! If you have any questions regarding this sale or any of our other products, please feel free to call us at 1-800-229-4500 and we will be happy to help you. You can also keep up with all our sales by signing up for our weekly
email newsletter
. Until next week!